Fienning Family Cousins
Cousins are forever, you always have them and even if 20 years go by without any contact, it's still possible to get together with a cousin and share stories about Uncle Herbert drove his car through the garage door. Cousins are the glue in the cracks that hold big families together.
From an article written by Andy Rooney, Date unknown.
A question was asked: "What is it like being a Fienning?" A simple straightforward question, yes...but one with many answers. Below are the responses, Just click on the links below to read each of the family member's thoughts. And, yes you can also Download or print them...the beauty of a pdf file.
From Edith Fienning Morris Croake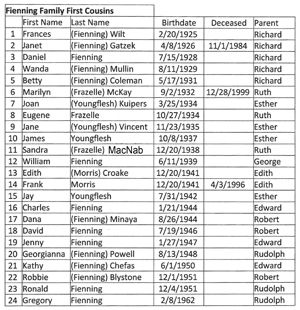 You can click on the image to the left and Download/View/Print the pdf file of this "Cousins" Chart and the accompanying article on Cousins written by Andy Rooney.
---